How probiotics can help health conditions
Hippocrates, the father of modern medicine, believed that "All disease begins in the gut". Recent research is proving that this is substantially correct.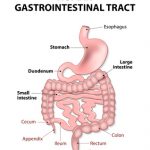 Your digestive system is a sequence of organs that convert food into the nutrients you need and eliminates unused waste material. If the digestive system is compromised, the body may be inadequately nourished or unable to rid itself of waste-building toxicity that can lead to illness.
The digestive system or gastrointestinal (GI) tract, begins at the mouth, includes the (o)esophagus, stomach, small intestine, large intestine (also known as the colon) and the rectum.
Probiotics have been shown to have an effect on the following conditions. Click the + sign to open up the information boxes. References are listed below.
Candida and Thrush references
Are probiotics effective in the treatment of fungal colonization of the gastrointestinal tract? Experimental and clinical studies. Zwolińska-Wcisło M, Brzozowski T, Mach T, Budak A, Trojanowska D, Konturek PC, Pajdo R, Drozdowicz D, Kwiecień S. J Physiol Pharmacol. 2006 Nov;57 Suppl 9:35-49.
In vitro studies on colonisation resistance of the human gut microbiota to Candida albicans and the effects of tetracycline and Lactobacillus plantarum LPK", Payne S., Gibson G., Wynne A., Hudspith B., Brostoff J., Tuohy K. (2003), Curr Issues Intest Microbiol 4(1):1-8.
Vaginal yeast infections in diabetic women. Peer A.K., Hoosen A.A., Seedat M.A., van den Ende J., Omar M.A. (1993), S Afr Med J, 83(10):727-9.
Recurrent vaginal candidiasis. Importance of an intestinal reservoir: Miles M.R., Olsen L., Rogers A. (1977), JAMA238(17):1836-7.
Diarrhoea references
Probiotics for treating infectious diarrhoea", Allen S.J., Okoko B., Martinez E., Gregorio G., Dans L.F. (2004),Cochrane Database Syst Rev, 2:CD003048.
Clinical uses of probiotics for stabilizing the gut mucosal barrier: successful strains and future challenges, Salminen S., Isolauri E., Salminen E. (1996), Antonie Van Leeuwenhoek, 70:347-58.
https://www.ncbi.nlm.nih.gov/pubmedhealth/PMH0088733/
Live probiotics protect intestinal epithelial cells from the effects of infection with enteroinvasive Escherichia coli (EIEC) Resta-Lenert S. and Barrett K.E. (2003), Gut, 52(7):988-97
IBS references
Probiotic Therapy for Irritable Bowel Syndrome George Aragon, MD, Deborah B. Graham, MD, Marie Borum, MD, EdD, MPH, and David B. Doman, MD, FACP, FACG Gastroenterol Hepatol (N Y). 2010 Jan; 6(1): 39–44.
Hay Fever References
Efficacy and safety of the probiotic Lactobacillus paracasei LP-33 in allergic rhinitis: a double-blind, randomized, placebo-controlled trial (GA2LEN Study)", European Journal of Clinical Nutrition (2014) 68, 602–607 D J Costa, P Marteau, M Amouyal, L K Poulsen, E Hamelmann, M Cazaubiel, B Housez, S Leuillet, M Stavnsbjerg, P Molimard, S Courau and J Bousquet
Treatment of Allergic Rhinitis with Probiotics: An Alternative Approach Gui Yang, Zhi-Qiang Liu, and Ping-Chang Yang1 N Am J Med Sci. 2013 Aug; 5(8): 465–468. doi: 10.4103/1947-2714.117299
IBD references
Gut Microbial Flora, Prebiotics, and Probiotics in IBD: Their Current Usage and Utility Franco Scaldaferri, et al Department of Internal Medicine, Gastroenterology Division, Catholic University of Sacred Hearth, Roma, Italy
Inflammatory Bowel Disease Daniel K. Podolsky, M.D. N Engl J Med 1991; 325:1008-1016 October 3, 1991DOI: 10.1056/NEJM199110033251406
Probiotics for Crohn's and Colitis, Cartwright P. (2003), Prentice Publishing.
Probiotic Lactobacillus spp. diminish Helicobacter hepaticus-induced inflammatory bowel disease in Interleukin–10 deficient mice", Penja J.A., Rogers A.B., Ge Z., Ng V., Li S.Y., Fox J.G., Versalovic J. (2005), Infect Immun. Feb, 73(2): 912:20.
https://scienceouverte.fr/IMG/pdf/kruis_2004_nissle.pdf
Leaky Gut Syndrome references
Arrieta MC, et al. Alterations in intestinal permeability. Gut. 2006 Oct;55(10):1512-20.
Drago S, et al. Gliadin, zonulin and gut permeability: Effects on celiac and non-celiac intestinal mucosa and intestinal cell lines. Scand J Gastroenterol. 2006 Apr;41(4):408-19.
Gecse K, et al. Leaky gut in patients with diarrhea-predominant irritable bowel syndrome and inactive ulcerative colitis. Digestion. 2012;85(1):40-6.
Fasano A. Zonulin and its regulation of intestinal barrier function: the biological door to inflammation, autoimmunity, and cancer. Physiol Rev. 2011 Jan;91(1):151-75.
McMillen M. Leaky Gut Syndrome: What Is It? http://www.webmd.com/digestive-disorders/features/leaky-gut-syndrome.
Khalif IL, et al. Alterations in the colonic flora and intestinal permeability and evidence of immune activation in chronic constipation. Dig Liver Dis. 2005;7:838–49.
Liu Z, et al. Tight junctions, leaky intestines, and pediatric diseases. Acta Paediatr. 2005 Apr;94(4):386-93.
Hollander D. Intestinal permeability, leaky gut, and intestinal disorders. Curr Gastroenterol Rep. 1999 Oct;1(5):410-6.